Welcome to our Site!
Swargunjan Music Academy is founded by reknowned vocalist Pramesh Nandi of Mewati Gharana of Padmavibhushan Pandit Jasrajji. Pramesh Nandi, who is born and brought up in Gujarat, India, with the fragrance of music in the family.He was guided and influenced by many music teachers, and performers in the beginning, then learnt systematic indian classical music of mewati gharana from Shri Niraj Parikh. An advanced classical training is taken under strict guidence of Pandit Hemang Mehta of mewati gharana, who is a senior deciple of Pandit Jasrajji. A "Guru-Shishya Parampara" is maintained and is still learning on a regular basis from Pandit Hemangji.Pramesh has worked as a singer, music director and composor in t.v serials. He organizes many musical events and shows in the world. He has been awarded with "JEWEL OF THE COMMUNITY" award by secretary of Indian Consulate General of Canada.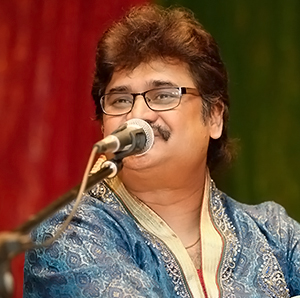 Pramesh Nandi
Swargunjan Music Academy is established in Brampton,Canada to keep Indian culture and heritage alive.Swargunjan gives an opportunity to learn, understand and perform Indian classical music. Students demonstrate their abilities every year on annual recital day.Music has 3 components. singing, playing instruments and dance. swargunjan gives an opportunity to learn all three components.We teach Indian classical and light vocal, instruments in form of harmonium, key board, tabla and dholak, guitar and bharatnatyam on regular basis.